Lake of the Ozarks Water Safety Council Upcoming Events
Our Meetings
If you would like to attend a future meeting, please call
KC Cloke   Water Safety Council President – 573-346-2227
Bob May Water Safety Co-Chair – 660-492-2720
Doug Beck Marketing Director – 573-216-8141
MEETING LOCATION:
Camdenton Chamber of Commerce
739 US-54, Camdenton, MO 65020
MEETING Date:  3rd Tuesday of the month
MEETING Time:  11:00 AM to 12:00PM
Meeting are open to all public interested in Education and Water Safety.
Lake of the Ozarks Shoot Out Check Presentation
Lake of the Ozarks Water Safety Council is pleased to be part the Lake of the Ozarks Shoot out check presentation.  Checks were presented to many volunteer organizations  for thier efforts in helping with the Shootout.
$625,000 dollars was given out to various organizations.  Which Lake of the Ozarks Water Safety Council was one.
If you want to make a difference and help make Lake Of The Ozarks safer please join us every third Tuesday at 11:00 am Camdenton Chamber of Commerce.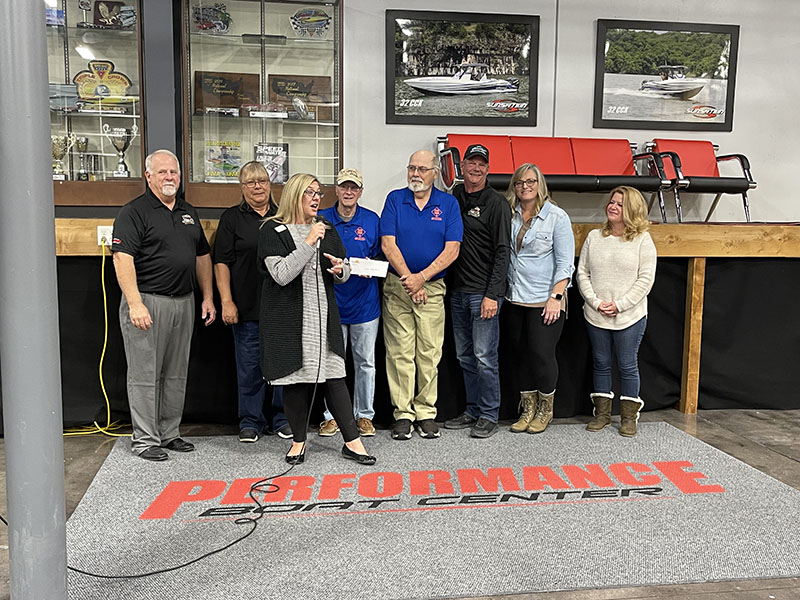 Wear Your Life Jacket to Work Day
Date:  May 19, 2023
Wear Your Life Jacket at Work Day is May 19, 2023. Wear your life jacket, snap a picture while at work, and share on social media.  this annual event is a fun, educational way to heighten life jacket awareness.  Prizes will be awarded for:
Best Group photo
Best Pet photo
Best Individual photo
Email your photos to info@lozwatersafetycouncil.com
National Safe Boating Week
Date:  May 20- 26, 2023
The National Weather Service has partnered with the National Safe Boating Council, an NOAA Weather-Ready Nation Ambassador, to help promote safe boating practices. . The 2023 annual celebration of National Safe Boating Week, the National Safe Boating Council and the Lake of the Ozarks Water Safety Council encourages boating enthusiasts to communicate with their local community about responsible boating via digital outreach, launch point reminders, outreach events, vessel safety checks, and more. Watch our site for more information.

Register for the Boater Safety Course- https://www.mshp.dps.missouri.gov/WP02Web/app/safetyEdClasses
Course Date: TBD
Course Location: State Fair Community College-Lake of the Ozarks Campus
Address: Stone Crest Mall Upper Level, 3797 Osage Beach Parkway, Osage Beach, MO 65065
Course Time: 9:00 am to 4:00 pm
All operators born AFTER Jan. 1, 1984, MUST have the MO Boating Safety Certification Card to legally operate a motorized vessel or PWC on any MO lake. Any person may take one of the Missouri boater education courses. There is no age limit on who can take the course; however, that person should be able to follow the course material and understand the content. Missouri law states the operator of a boat must be 14 years of age unless accompanied by an adult on board the vessel. A child under 14 years of age operating a vessel (on the lakes of the state) with adult supervision would still need a boater identification card.
– Missouri approved/MSHP- Water Division
– Live-action, high-definition videos
– Comprehensive instruction in MO boating safety education
The Water Patrol Division charges a $15.00 fee for the boater safety identification card and passing students will pay that fee online or by check through the postal system. There is no fee to take the classroom course which will be conducted by a local marine operations trooper.
Class size is limited so enroll today! Social Distancing AND Masks Required.
Upcoming Events
Life Jacket Loaner Program:  Various stations will be around the Lake of the Ozarks to promote life jacket usage.  Date:  June 2021
Boating Lessons with Boat US & Freedom Boat Club.  Date:  TBD
Boater Education Seminars/Classes with Water Patrol, LOTO Captain Association, & Water Safety Council.  Date:  TBD
Gas Dock Safety: Proper fueling procedures to prevent boating fires and injuries. Date:  TBD